Concept
Introduction
Here we present our approach to shoemaking divided into four topics: Design, Last, Construction and Materials.
Design
The aim of our design is to achieve harmony between you and your shoes
At HIRO YANAGIMACHI we believe design is what brings together the elements of a shoe, from the shoemaker's design sense to the last, materials, upper and sole. This is not design as ornamentation but "pure design", so to speak, where the shoe embodies the maker's ideas as a whole and in the details. We also believe good design should not dominate or overwhelm, but rather play a dignified and complementary role to the wearer where the shoe becomes like a part of the person. By applying our design sense and harmonizing it with the wearer, the shoe reflects the wearer's personality, thereby adding to its beauty.
Products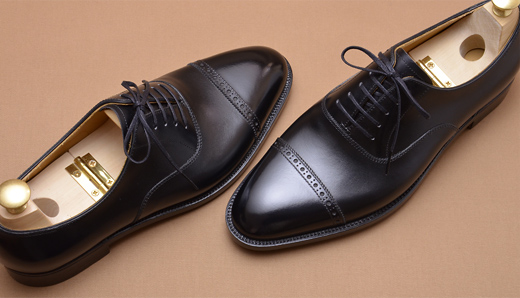 Last
Our last gives comfort to your feet
and beauty to your shoes
The making of the last is the most important aspect of shoemaking, and a difficult one. This is because the last determines not only the fit of the shoes but also their appearance. The last maker must combine technique and artistry to take into account the unique aspects of the foot's shape and apply these to the last with a sculptural sense. The making of a last is the culmination of the last maker's technique and skills gained from experience. A HIRO YANAGIMACHI last will reflect the uniquely individual characteristics of its wearer, thereby bringing about a precise fit and a beautiful shoe.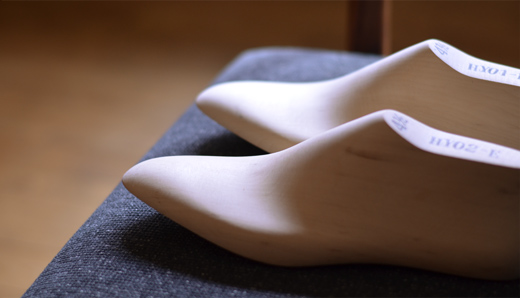 Construction
Making shoes the traditional way
because it is still the best way
HIRO YANAGIMACHI shoes are made pair-by-pair on the lap of the shoemaker using the traditional hand-sewn welted method. This method is necessary for bespoke shoemaking in order to account for the unique lasts and specifications of a customer. It is also the simplest and most direct way to bring together the ideas of the wearer and the design sense of the maker. The hand-sewn welted method is the foundation of modern shoemaking and is carried on by a small number of makers. It combines strength and flexibility, allows for future repair, and features other qualities to create precise fitting shoes with outstanding comfort.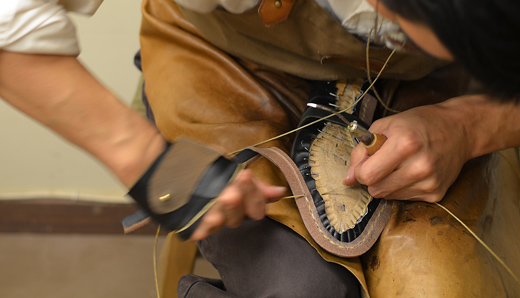 Materials
We choose materials that become better
and more attractive with age
The upper leather at HIRO YANAGIMACHI is primarily calf and other leather sourced from Europe. These leathers are robust and flexible to form precisely to the foot and withstand long years of use. This leather will become more expressive as you wear it, deepening your attachment to the shoes. Our sole leather is also sourced from Europe and is chosen for its durability and ideal cushioning and flexibility. All other materials found in our shoes are carefully selected for their special characteristics and functionality. With the right materials, the quality of the shoe comes through and the wearer will be satisfied.
Gallery